I speak English (American.English! Born in Buffalo, NY; USA). But I live in Sweden and am a Swedish citizen, living in Härnösand, pretty far North. This site is created for people in Sweden and is therefore in Swedish. The time zone for Sweden is UTC/GMT +1 hour.   Current time in Sweden
There are loads of information in English on the Web. FasterEFT.com  and YouTube channel HealingMagic are the most authoritative ones because they belong to Robert Smith, the creator of FasterEFT. There are some other English pages on this site: Healing Attitudes , Peace list & Happy journal, Art of Change
If you would like to contact me for more information, you can use the contact form below or ring/SMS my mobile  +46- 70-35 80 306  or Skype:  jeff_forssell (Skype will also show what the local time is for the person you are calling)
Besides having consultations in person (I live in Härnösand) this method can be used through Internet video, with  Skype,  Facebook-, Gmail- or MS Live- Messenger.
You can even be guided by telephone, if you know where to tap (also pointed out with red lines in the (Swedish) picture: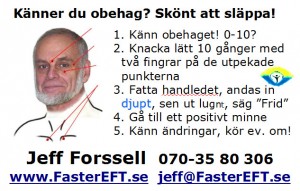 EB (Eyebrow) tap between the eyebrows 

(Bladder point according to acupuncture)

SE (Side of the eye) on the bony ridge right to the side of eye

( Gallbladder)

UE (Under the eye) on the bony ridge right below the pupil of  the eye 

( Stomach)

CB ( Collar bone) tap with all 5 fingers about where a necklace would hang 

( Kidney)

WRIST Grip your wrist with opposite hand

(Lungs, Large Intestine, Circulation, Heart, Triple Warmer)
A testimonial from a Skype session with an English woman:
Thank you, Jeff Forssell for a brilliant session. Great new insights to integrate now from your wise words. Thank you for digging deeper than the 'virus'. I reckon today's session is going to cause some subtle but powerful shifts. Now I know HOW to say 'no', or speak up about things that bother me. And a very sound reminder to unpin my happiness from unrealistic expectations of others. At last!! Love your gentle but firm style, and your humour. Very, very good job, Jeff!! Blessings, Julie
---
Disclaimer: I am not a licensed health care practitioner (doctor, psychologist, etc. ) this site and my work are to be considered educational. It should not be used to diagnose or treat medical conditions. If you are undergoing conventional treatment, you should not change the treatment (example: change medication dosage) without consulting your doctor, even if you are feeling much better.  If you do not agree to this, you should leave this site.
You can see a more complete (legal style) agreement for private session here.

If you would like to get this site translated to English, Googles Translate service can do a good (though far from perfect!) job. This link might work: http://translate.google.se/